One of my favorite passages in Scripture (2 Chronicles 20) provides us with Perfect Vision for Troubling Times. Summing up this perfect vision, 2 Chronicles 20:20 tells us, 'Have faith in the LORD your God and you will be upheld; have faith in his prophets and you will be successful." 

I don't know about you, but I feel like I'm watching the world implode. It means I've been offline more than online, less writing and more praying, daily anchoring my hope in His promises, and giving myself encouragement, a 20/20 vision for 2021 and all the troubling times surrounding us. How can one remain encouraged? By where our eyes are focused.
There are bombs in the Middle East, but my eyes are on You.
There is fiscal uncertainty, but my eyes are on You.
There are terrorists at home and abroad, but my eyes are on You.
There is a virus unleashed upon mankind, but my eyes are on You.
There is fear amplified among the masses and some use it for terrible ungodly ends, but my eyes are on You.
There is hatred and unrest, but my eyes are on You.
There is child-sex trafficking and my heart is breaking, but my eyes are on You because You care immensely about these little ones who bear Your Image.
There is fraud and deception in this world and no news source in which we can trust, but my eyes are on You, the Way, the Truth, and the Life.
There are seeds of division being sown by the evil one, seeds of racism, seeds of anti-Semitism, seeds of politics, seeds of jealousy, seeds of injustice, seeds designed to scatter, to enslave to fear, to enslave to government, and to divide people from each other and from God Almighty, but I will remain steadfast. My eyes are on You who came to heal, forgive, and save.
There are enemies outside and infiltrators within to destroy, but my eyes are on You, the Rock of my salvation, the greater One than the one that is in the world.
There is death and injury, but my eyes are on You because Your resurrection proves You conquered death and the grave.
There is a battle of spiritual evil, a terrifying axis aligned in war against Your people, but You are my God and my eyes are on You.
There is weariness in the journey of faith, but You give us a yoke that is easy and light to stay the course. My eyes are on You.
There is fatigue, but my eyes are on You who promises a crown of life to those who persevere by faith.
There is false doctrine and apostasy in the Church, but my eyes are on You, the author and perfecter of my faith, the One whose word is right and true.


Strengthen my heart for this battle, Lord. Give me courage to stand firm and after having done everything … to stand. To stand for You in an increasingly hostile world. I love you, Lord Jesus. You are the Amen, "the faithful and true witness, the ruler of all creation." (Revelation 3:14) Amen and Amen.

My dear readers, now see if you don't love 2 Chronicles 20 like I do:
2 Chronicles 20:1 After this, the Moabites and Ammonites with some of the Meunites came to wage war against Jehoshaphat.  2 Some people came and told Jehoshaphat, "A vast army is coming against you from Edom, from the other side of the Dead Sea. It is already in Hazezon Tamar" (that is, En Gedi).  3 Alarmed, Jehoshaphat resolved to inquire of the LORD, and he proclaimed a fast for all Judah. 
4 The people of Judah came together to seek help from the LORD; indeed, they came from every town in Judah to seek him.  5 Then Jehoshaphat stood up in the assembly of Judah and Jerusalem at the temple of the LORD in the front of the new courtyard 6 and said: "LORD, the God of our ancestors, are you not the God who is in heaven? You rule over all the kingdoms of the nations. Power and might are in your hand, and no one can withstand you.  7 Our God, did you not drive out the inhabitants of this land before your people Israel and give it forever to the descendants of Abraham your friend?  8 They have lived in it and have built in it a sanctuary for your Name, saying, 9 'If calamity comes upon us, whether the sword of judgment, or plague or famine, we will stand in your presence before this temple that bears your Name and will cry out to you in our distress, and you will hear us and save us.' 
10 "But now here are men from Ammon, Moab and Mount Seir, whose territory you would not allow Israel to invade when they came from Egypt; so they turned away from them and did not destroy them. 11 See how they are repaying us by coming to drive us out of the possession you gave us as an inheritance.  12 Our God, will you not judge them?

For we have no power to face this vast army that is attacking us. We do not know what to do, but our eyes are on you." 13 All the men of Judah, with their wives and children and little ones, stood there before the LORD.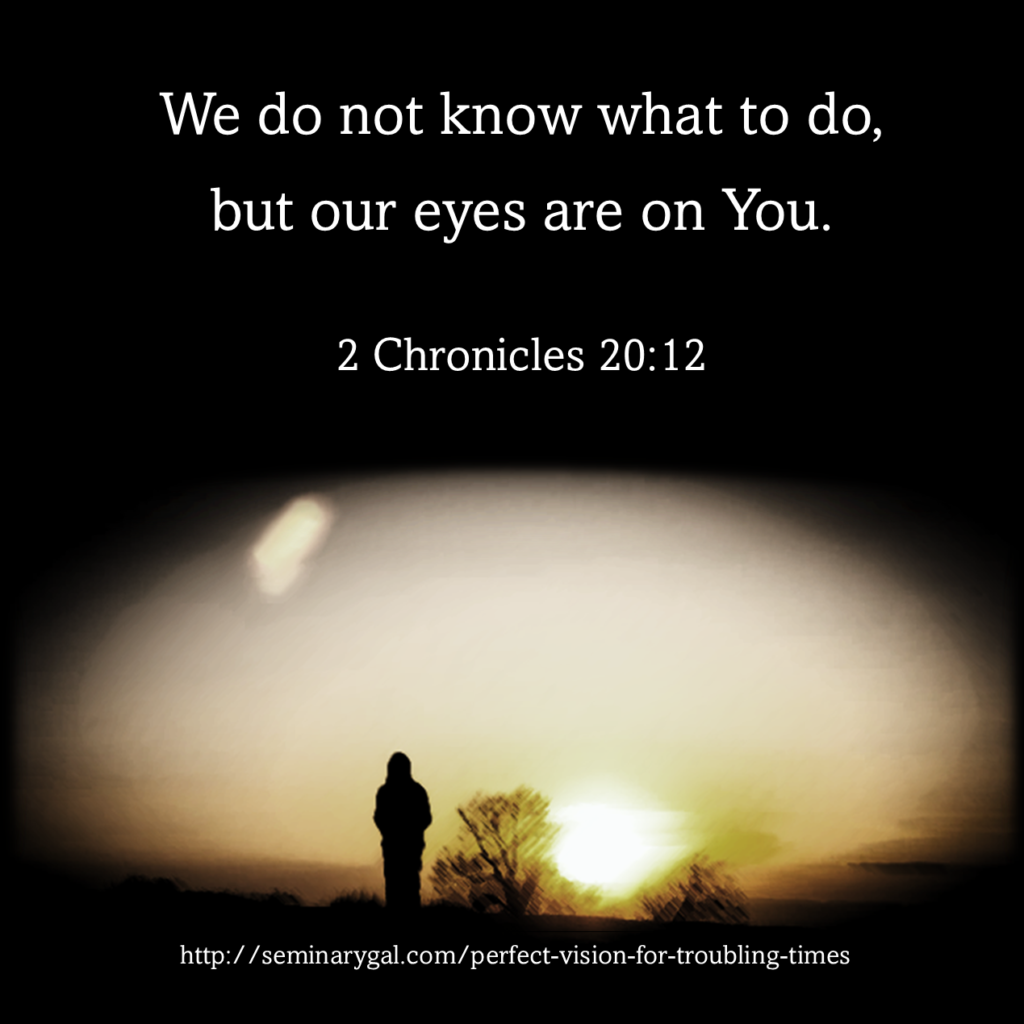 14 Then the Spirit of the LORD came on Jahaziel son of Zechariah, the son of Benaiah, the son of Jeiel, the son of Mattaniah, a Levite and descendant of Asaph, as he stood in the assembly.  15 He said: "Listen, King Jehoshaphat and all who live in Judah and Jerusalem! This is what the LORD says to you: 'Do not be afraid or discouraged because of this vast army. For the battle is not yours, but God's.  16 Tomorrow march down against them. They will be climbing up by the Pass of Ziz, and you will find them at the end of the gorge in the Desert of Jeruel.  17 You will not have to fight this battle. Take up your positions; stand firm and see the deliverance the LORD will give you, Judah and Jerusalem. Do not be afraid; do not be discouraged. Go out to face them tomorrow, and the LORD will be with you.'" 
18 Jehoshaphat bowed down with his face to the ground, and all the people of Judah and Jerusalem fell down in worship before the LORD. 19 Then some Levites from the Kohathites and Korahites stood up and praised the LORD, the God of Israel, with a very loud voice.
20 Early in the morning they left for the Desert of Tekoa. As they set out, Jehoshaphat stood and said, "Listen to me, Judah and people of Jerusalem! Have faith in the LORD your God and you will be upheld; have faith in his prophets and you will be successful." 
21 After consulting the people, Jehoshaphat appointed men to sing to the LORD and to praise him for the splendor of his holiness as they went out at the head of the army, saying: "Give thanks to the LORD, for his love endures forever."  22 As they began to sing and praise, the LORD set ambushes against the men of Ammon and Moab and Mount Seir who were invading Judah, and they were defeated.  23 The Ammonites and Moabites rose up against the men from Mount Seir to destroy and annihilate them. After they finished slaughtering the men from Seir, they helped to destroy one another.  24 When the men of Judah came to the place that overlooks the desert and looked toward the vast army, they saw only dead bodies lying on the ground; no one had escaped.