Not a typo of desserts.  And while our journey started with preparation in the desert, it's not that type of desert either.  It's Just Deserts.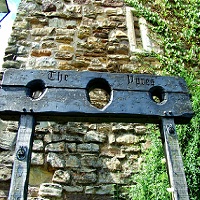 I love learning origins of words and phrases.  This one, interestingly, comes from a play entitled Warning Faire Women (1599):  "Upon a pillory – that al the world may see, A just desert for such impiety."  Al is apparently not a typo either, although maybe he was the author but we'll never know because it was anonymously published.  A pillory is a wooden structure with holes for the head and arms—something we often refer to as stocks, used for publicly shaming people.  While all this is rather curious, what you may be really curious about is what it has to do with our devotional passage for today–1 Peter 2:19-25.
Everything.   Just deserts means getting what we deserve.
For it is commendable if a man bears up under the pain of unjust suffering because he is conscious of God.  But how is it to your credit if you receive a beating for doing wrong and endure it?  But if you suffer for doing good and you endure it, this is commendable before God.  To this you were called, because Christ suffered for you, leaving you an example, that you should follow in his steps.  "He committed no sin, and no deceit was found in his mouth."  When they hurled their insults at him, he did not retaliate; when he suffered, he made no threats. Instead, he entrusted himself to him who judges justly.  He himself bore our sins in his body on the tree, so that we might die to sins and live for righteousness; by his wounds you have been healed.  For you were like sheep going astray, but now you have returned to the Shepherd and Overseer of your souls (1 Peter 2:19-25).
Anytime we suffer on account of sin, we're getting just deserts from a holiness perspective.  If we suffer at the hands of our fellow man on account of sin in the world, humanity is getting just deserts from a holiness perspective.  How can this possibly be commendable?
Well, Jesus took upon Himself what we deserved and when He received our just deserts, God called it grace.  Our suffering is temporary and earthly.  Jesus' wounds have healed us eternally by His crucifixion—a public shaming far worse than any pillory.  Just—God is.  Deserts—ours became Jesus'.  His righteousness became ours–His amazing grace in taking our just deserts.