Joseph—he was trying to do everything right. He tried avoidance, reason, diplomacy, theology, and escape. He didn't expect false accusation as the result of his fleeing the scene of Potiphar's wife's unwelcome advances.
Genesis 39:13 When she saw that he had left his cloak in her hand and had run out of the house, 14 she called her household servants. "Look," she said to them, "this Hebrew has been brought to us to make sport of us! He came in here to sleep with me, but I screamed. 15 When he heard me scream for help, he left his cloak beside me and ran out of the house."
(What a lying snake! Like her household servants wouldn't have heard her scream. Potiphar's wife speaks, all the servants resist doing an eye roll.)
Genesis 39:16 She kept his cloak beside her until his master came home.
<sarcasm warning> (Obviously traumatized.) Interesting that the words are "his master" and not "her husband."
Genesis 39:17 Then she told [Potiphar] this story: "That Hebrew slave you brought us came to me to make sport of me. 18 But as soon as I screamed for help, he left his cloak beside me and ran out of the house."
(Liar, liar, pants on fire…)
Genesis 39:19 "When his master heard the story his wife told him, saying, 'This is how your slave treated me,' he burned with anger. 20 Joseph's master took him and put him in prison, the place where the king's prisoners were confined. "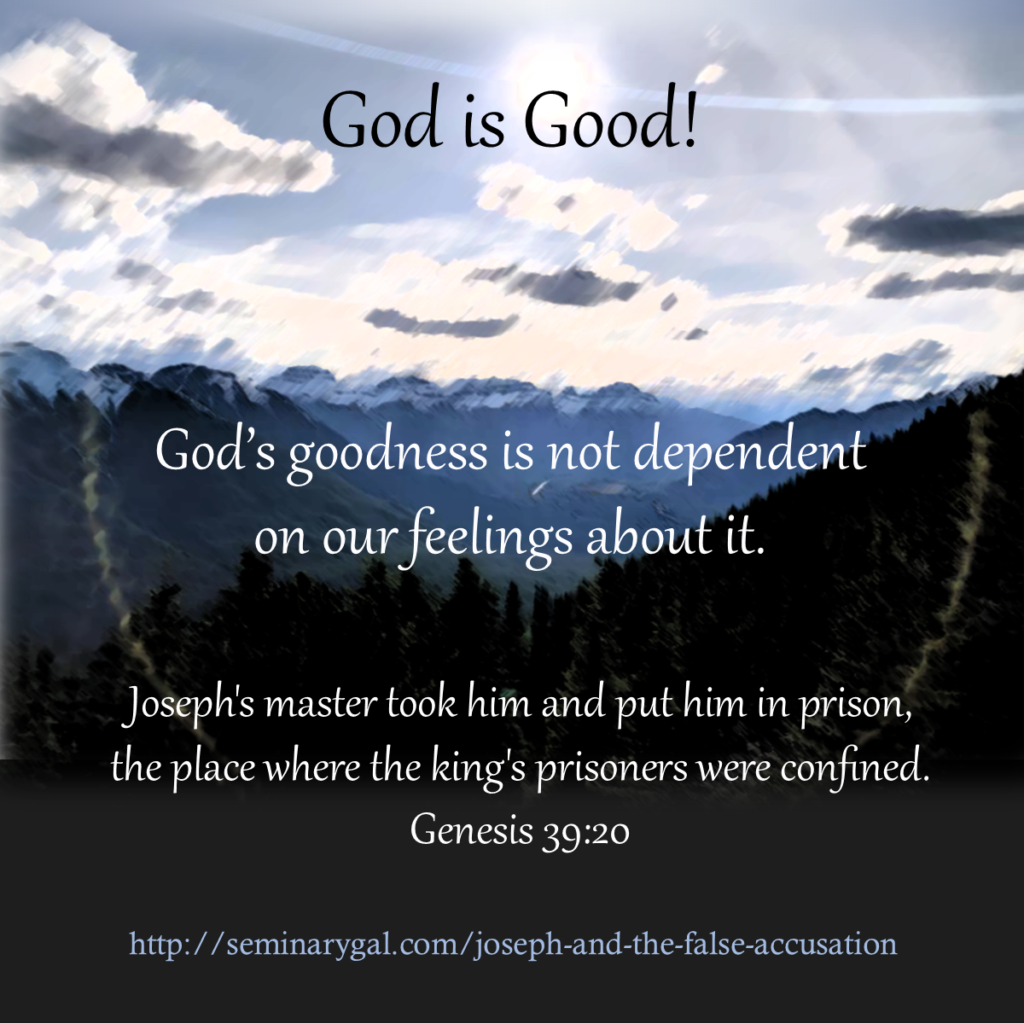 Think about it:
Being falsely accused is never easy because you know you didn't do it, but you have no recourse.  In Joseph's case, we aren't given any indication he spoke up in self-defense, but as a slave, would he have been given that opportunity? 
In anger, Potiphar quickly forgot all the blessings attached to Joseph.  When we're angry, do we forget about God's blessings? 
Potiphar's and Joseph's experience of blessings might have elicited shouts of "God is good!"  When Potiphar is angry and Joseph is being falsely accused and thrown in prison, God was still good because it was advancing the storyline of Joseph's life through which God would do great things!  Do you think it felt good for Joseph? 
Do you think Potiphar would have been blessed apart from Joseph?
Sometimes Joseph is called "a type of Christ," a foreshadowing of things preparing our hearts for Jesus.  In what ways do false accusations and being a prisoner advance that thought?