In the movie Home Alone 2: Lost in New York, Kevin McCallister says to a New York City taxi driver, "Boy, it's scary out there." The scary-looking driver responds, "Ain't much better in here, kid."
It's a scary world out there for all of us. There's terrorism in Paris and San Bernardino. It's a world of human trafficking and our culture passing off things as no big deal and a woman's right when if it were done at Dachau, it would have been something so horrific, we couldn't bear to see it. It would be worthy of a world war to stop it.
We've lost our moral compass as we've lost our devotion to God. Arguably, God has already turned His eye from blessing the United States of America. We're like a biplane of human moral aimlessness flying in a sky of ethical uncertainty. Plus, we're flying wounded and Americans are frightened.
What we need is peace, but not the kind the world gives. The kind that only God can give.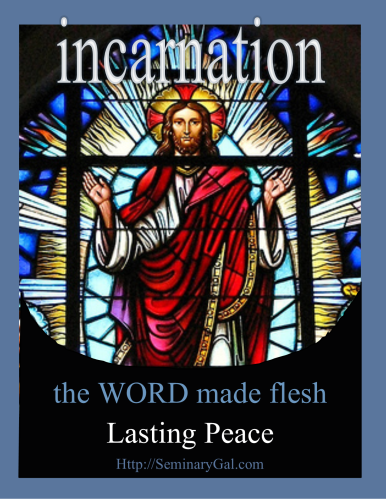 Before Jesus went to the Cross, He said, John 14:25 "All this I have spoken while still with you. 26 But the Counselor, the Holy Spirit, whom the Father will send in my name, will teach you all things and will remind you of everything I have said to you. 27 Peace I leave with you; my peace I give you. I do not give to you as the world gives. Do not let your hearts be troubled and do not be afraid. 28 "You heard me say, 'I am going away and I am coming back to you.' If you loved me, you would be glad that I am going to the Father, for the Father is greater than I. 29 I have told you now before it happens, so that when it does happen you will believe. 30 I will not speak with you much longer, for the prince of this world is coming. He has no hold on me, 31 but the world must learn that I love the Father and that I do exactly what my Father has commanded me. "Come now; let us leave."
The whole reason Jesus came to earth, the entire reason behind the Incarnation, was to bring us an everlasting peace by His shed blood. Not a peace the world can give at all.
In Romans 5, it is stated this way: Romans 5:1 Therefore, since we have been justified through faith, we have peace with God through our Lord Jesus Christ, 2 through whom we have gained access by faith into this grace in which we now stand. And we rejoice in the hope of the glory of God. 3 Not only so, but we also rejoice in our sufferings, because we know that suffering produces perseverance; 4 perseverance, character; and character, hope. 5 And hope does not disappoint us, because God has poured out his love into our hearts by the Holy Spirit, whom he has given us. 6 You see, at just the right time, when we were still powerless, Christ died for the ungodly. 7 Very rarely will anyone die for a righteous man, though for a good man someone might possibly dare to die. 8 But God demonstrates his own love for us in this: While we were still sinners, Christ died for us. 9 Since we have now been justified by his blood, how much more shall we be saved from God's wrath through him! 10 For if, when we were God's enemies, we were reconciled to him through the death of his Son, how much more, having been reconciled, shall we be saved through his life! 11 Not only is this so, but we also rejoice in God through our Lord Jesus Christ, through whom we have now received reconciliation.
Today's thought comes from the benediction in Hebrews 13:20 May the God of peace, who through the blood of the eternal covenant brought back from the dead our Lord Jesus, that great Shepherd of the sheep, 21 equip you with everything good for doing his will, and may he work in us what is pleasing to him, through Jesus Christ, to whom be glory for ever and ever. Amen.
Question for pondering: There's only one religion of peace and only one true God who offers it in His Incarnation. Do you know this God of peace?
====
Incarnation (2015 Advent Devotional Series) began November 29th.  By way of reminder, if you haven't signed up yet, you can receive these devotional studies in your email throughout Advent 2015 by entering your email address on the SeminaryGal.com home page in the space provided in the sidebar.  Or "Like" the SeminaryGal Facebook page to access them there.  If you like these devotionals, I'd really appreciate your letting others know so I can continue to spread the Good News far and wide.  Blessings to you, in Christ always, Barbara <><