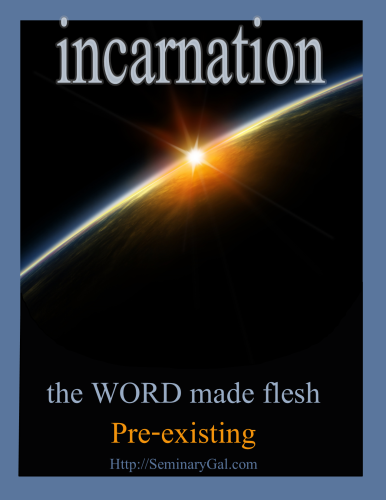 So, was the Incarnation God's "Plan B" after Adam and Eve went AWOL and became rogue humans?
Nope. It was the plan all along.
Even before He created Adam and Eve. 
It was pre-existing.
Perhaps it seems rather odd to you that God would plan to send Jesus to die before He created the ones who would bring death into the picture. Yeah. It is rather strange. Especially since God is all about life.
John 1:4 In him was life, and that life was the light of men.
And yet, He contemplated human mortality and prepared His solution to it. He knew we'd rebel and yet He created us anyway.
In the Godhead (Father, Eternal Word, Holy Spirit), there was no death, only life and life-giving. Yet Scripture says,
Ephesians 1:4 For he chose us in him before the creation of the world to be holy and blameless in his sight. In love 5 he predestined us to be adopted as his sons through Jesus Christ, in accordance with his pleasure and will– 6 to the praise of his glorious grace, which he has freely given us in the One he loves.
God's choice to redeem us as holy and blameless—rebels though we have been—was a choice God made even before Creation. It was pre-existing. And our God who is all about life would bring about eternal life for us through His Son's Incarnation and death for us.
Thought for the day: The very same God who is all about life and gave us life at Creation—even knowing that we'd bring death into the picture–would give us the Incarnation as His solution to human mortality. In doing so, He amplified the beauty of eternal life through the ugliness of death.
Questions for reflection:
How did God know that death existed if He's all about life? Read

Genesis 3:22 And the LORD God said, "The man has now become like one of us, knowing good and evil. He must not be allowed to reach out his hand and take also from the tree of life and eat, and live forever."

Genesis 3:23 "So the LORD God banished him from the Garden of Eden to work the ground from which he had been taken. 24 After he drove the man out, he placed on the east side of the Garden of Eden cherubim and a flaming sword flashing back and forth to guard the way to the tree of life."

How did God keep us from taking matters into our own hands? Would living forever in a sinful state be eternal life or more like a forever death sentence?
How does death make eternal life all the more glorious?
======
Incarnation (2015 Advent Devotional Series) began November 29th.  By way of reminder, if you haven't signed up yet, you can receive these devotional studies in your email throughout Advent 2015 by entering your email address on the SeminaryGal.com home page in the space provided in the sidebar.  Or "Like" the SeminaryGal Facebook page to access them there.  If you like these devotionals, I'd really appreciate your letting others know so I can continue to spread the Good News far and wide.  Blessings to you, in Christ always, Barbara <><