At one point in my life, I worked in the garden department at Home Depot. It was the only work I could get. I would have liked to believe that I might have been hired at some church for a ministry job, after all I was seminary trained and was told in my exit interview from seminary that I had very strong "gift clusters" of leadership and teaching.
The cold, hard reality is that my theology is far too conservative for denominations that welcome women and denominations that might appreciate my perspective on the Scriptures, well, I was far too female.
One day when I was having a pity party for poor old Barb-n-garden and was hoisting heavy pallets onto a stack in the loading dock, I started to cry. It was hard, heavy, and humiliating work…especially when I considered that my peers from seminary, those men, were younger and stronger than I am and here I was, doing manual labor. Humiliating. Humbling. Hoisting. Hauling. Sweeping up dead leaves and dirt when I ought to have been teaching the Bible somewhere.  Such was the pity party.
Now don't get me wrong, I was valued at the Home Depot. I loved my coworkers and our customers…and they loved me. I loved being with the plants and being useful and so I stayed for quite a few years. Even beyond the mission trip which was the reason for needing paid employment at the time.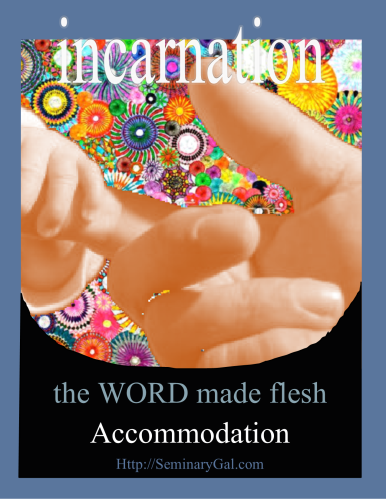 I learned a lot about humiliation, condescension, and accommodation from being there. That pity party I'd had back in the loading dock?
It had revealed I had far too little humility and thought I deserved something better.
The truth is that I had far too much pride and deserved far worse.
*.*.*
Pride is ugly and insidious and the solution is humiliation, humbling, and accommodation.
*.*.*
What does this have to do with the Incarnation?

Everything.
Philippians 2:5 Your attitude should be the same as that of Christ Jesus: 6 Who, being in very nature God, did not consider equality with God something to be grasped, 7 but made himself nothing, taking the very nature of a servant, being made in human likeness. 8 And being found in appearance as a man, he humbled himself and became obedient to death– even death on a cross! 9 Therefore God exalted him to the highest place and gave him the name that is above every name, 10 that at the name of Jesus every knee should bow, in heaven and on earth and under the earth, 11 and every tongue confess that Jesus Christ is Lord, to the glory of God the Father.
Jesus was not arrogant in the tiniest sense though He was God in every sense. And yet, He humbled Himself. The Incarnation was God's accommodation to mankind who deserved every last bit of wrath. And Jesus came to humbly show us the way of salvation. He was humiliated for our deliverance. He had no insidious pride and yet took upon Himself all that we deserved (wrath) so that we could receive what He would give (grace).
Thought for the day: The path to exaltation is through humiliation. The Incarnation was both God's accommodation to mankind and the perfect display of love worth exalting.
Questions for reflection:
What types of things stand in the way of your attitude being what is listed in Philippians 2 above?
Have you ever felt like some type of work was beneath you or you were asked to stoop beneath your dignity? What kinds of feelings did it foster?
Re-read Philippians 2 above and also Isaiah 53:5 and highlight what Jesus gave up in the Incarnation as God's accommodation for what we could not do for ourselves.
======
Incarnation (2015 Advent Devotional Series) began November 29th.  By way of reminder, if you haven't signed up yet, you can receive these devotional studies in your email throughout Advent 2015 by entering your email address on the SeminaryGal.com home page in the space provided in the sidebar.  Or "Like" the SeminaryGal Facebook page to access them there.  If you like these devotionals, I'd really appreciate your letting others know so I can continue to spread the Good News far and wide.  Blessings to you, in Christ always, Barbara <><